Men's Shoe Styling Guide: What to Wear, When & Where
Now is the time gentlemen, to take stock of your present shoe collection, what all you have and what you might need. Men are straightforward and want things to be as basic as possible, particularly when it comes to their clothing. There is a structure when it relates to the numerous sorts of men's shoes. In other words, not all styles of different shoes are made equal. We at Trendha will demonstrate to you how to get your shoe play on track whether it is scorching hot or freezing cold outside. With the correct shoes, you can achieve both flair and efficiency, ensuring that you're set for whatever the day brings, even special occasions. Check out our year-round ultimate guide styles to switch in and out of!
Boots
Boots are on the number one spot whenever it is about must-have footwear for men. These shoes are not only functional and comfy but also flexible and attractive. With such a pair of boots, you can easily go from casual work to the weekend. Many of them may be worn with casual attire and semi-formal outfits, making them an important wardrobe piece. Choose a pair of boots that accommodates your feet properly to guarantee that you are comfortable while wearing them. Your feet must fit snuggly and be cushioned when wearing them. However, you ought to be capable of moving your feet and ankles freely and without discomfort. In addition to that, make absolutely sure that you're able to put a finger behind your ankle and that your toes are not squeezed against by the tips of the boots to guarantee they fit you perfectly.
Sandals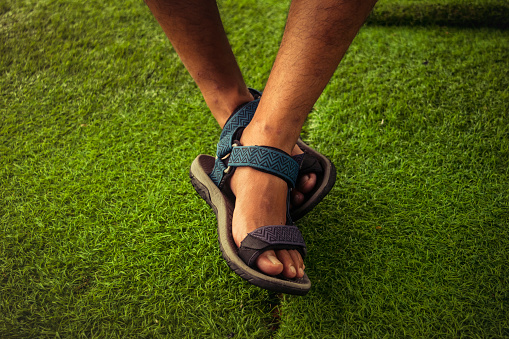 It is indeed time to just let your feet relax and breathe with a pair of men's sandals when the weather warms up and the summertime pool parties are near. There are a variety of styles available, ranging from simple, slip-on sandals to athletic Velcro ones. When it is about men's sandals, it's crucial to think about the larger picture. Consider the event and your current wardrobe – do you want a sandal that can be worn with pants or are you searching for a casual sandal? For a relaxed everyday style, pair athletic shoes and sandals with breathable cotton shorts. Faux sandals are ideal for wearing with swimming shorts from around beaches, poolside while leather sandals look fantastic with fitted shorts.
Casual Shoes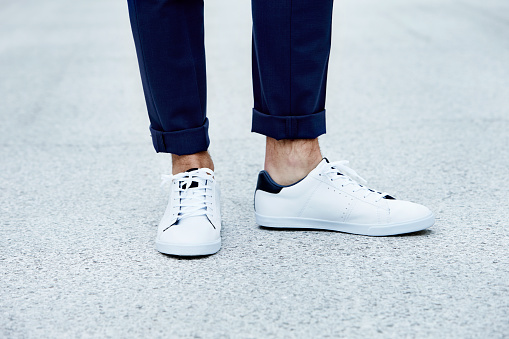 A classic casual shoe design is a great complement to any smart-casual collection. These shoes go with a broad range of clothing owing to their classic and simple style. The trick to making them appear stylish at the workplace is to keep your outfit balanced. To do the same, pair traditional leather types with more casual outfits and mink styles with a little more formal attire. They're acceptable in workplaces due to their professional and elegant style but are also perfectly suitable for post-work drinks and weekend parties thanks to their distinctive and trendy appeal. These shoes are a must-have for every male, and they're readily adaptable to a business casual atmosphere. To do so, combine khaki shorts with a button-down formal shirt with a pair of dark leather casual shoes. To guarantee a properly polished image for your workplace, put your shirt tucked in and wear a sleek attire complementing belt.
Slippers / Flip-Flops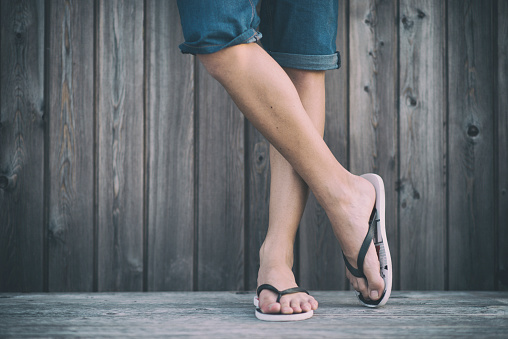 Summertime needs lightweight and open shoes that keep your feet cool and comfortable. Slippers have lately gained wide acceptance among men due to their ease of use and casual appearance. Slippers go well with almost any non-formal attire. A slide-on slipper will become your perfect companion for all these tasks, from coffee morning trips to dog walks, to simply relaxing at home. There are a variety of men's slippers obtainable from major brands. The slippers' ease of wear will undoubtedly make them your go-to summer shoes for any informal occasion.
Dress Shoes
Dress shoes are timeless men's dress shoes that should be in every gentleman's wardrobe. The closed lacing method, which includes stitching all across the bottom, distinguishes it. Dress shoes have a short heel and a small back, giving them a clean and professional appearance. These shoes are a great choice for any formal occasion since they look great with a suit. While black, polished dress shoes are ideal for the most formal occasions, different kinds may be worn to a variety of occasions. Whether the appearance is confusing or not, it produces a shoe with individuality and style. The best part is that they go with everything from jeans to a suit.
Sports Shoes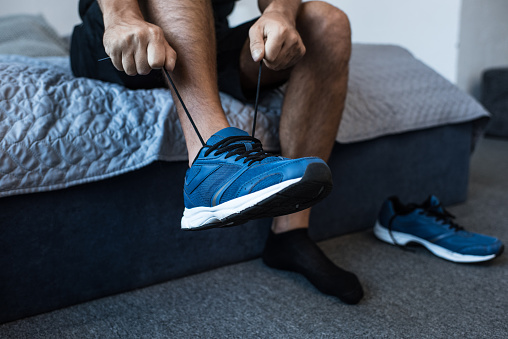 The sportswear trend is here to stick, which would be excellent news for those who value comfort and an athletic style, but what exactly is athleisure? It's a popular streetwear look for males, and it's easy to see why- it looks great with shoes. Sports shoes are similar to denim in the sense that they will be an evergreen wardrobe classic that never goes out of style. Sports shoes may be worn in a variety of trendy ways, where you can mix and match different looks to design a sneaker ensemble that suits you. All you need is some motivation. Throughout any instance, sports shoes should either highlight the style of a standout shirt or add a burst of color to a rather neutral ensemble. Sport shoes come in a variety of vibrant colors and designs, but basic colors include blacks, grey, charcoal, white and navy that will translate well to everyday wear. Try a pair of low ankle neutral-toned sneakers to complement an all-black athleisure ensemble.
Now that you know which shoe translates to white style, go jazz up your wardrobe and get ready to dazzle!
---