Garlic Fermenters: A Kitchen Appliance Every Household Needs
Fermented garlic, also famously known as black garlic, have seen a drastic rise in consumption with the onset of health-oriented foods of the 21st century. Garlic's antioxidant potential is considerably increased as a result of this procedure. What's more is that antioxidants in black garlic also are likely to account for its significant cardiovascular, liver, insulin levels and brain health advantages, along with its anti-cancerous capabilities. Although black garlic appears to have major advantages and upsides, it ought to be avoided in large doses if you use blood thinners or have garlic intolerance. If you're new to the term of black garlic, we have you covered! This article introduces you to black garlic, its benefits and an amazing kitchen appliance that every household ought to have. Grab your reading glasses and dive in!
What is Black Garlic?
If a clove of garlic is maintained in minimal temperatures and a moist climate for an extended period of time, black garlic emerges. The fermenting technique darkens the overall color of the garlic and also diminishes the pungent flavor raw garlic cloves are famous for. Aged garlic has a slightly sweet flavor as well as a mushy, mucilaginous-like consistency. Although cooked garlic seems to have a few health benefits, the majority of them are gone whenever the garlic is warmed. Raw garlic, on the other hand, provides a slew of health advantages. All of these boost up once raw garlic is pickled. 
Black Garlic Vs Raw Garlic
Black garlic has a superior flavor that is tangy with a hint of saltiness in harmony.
It has minimum to zero garlic odor, thus avoiding bad breath situations.
It is easily digestible.
It has a higher concentration of vitamins, antioxidants, enzymes and nutrients.
Black garlic also has a greater sodium level than ordinary fresh garlic if you produce it yourself. This is mainly due to the presence of salt in the fermenting step that gets saturated.
Riboflavin, a-tocopherol and most amino acids are all greater in black garlic, while thiamine and ascorbic acid are lower.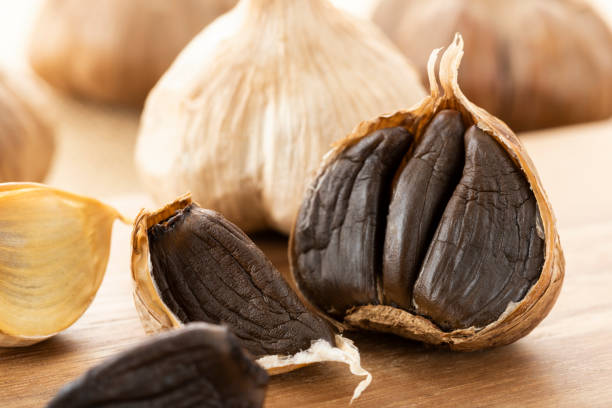 Benefits of Black Garlic
Prevents cancer: Black garlic contains a broad spectrum of antioxidant enzymes, including alkaloids and bioflavonoids, which are transformed from allicin in mass to reduce the risk of developing cancer.
Anti-inflammatory: With less inflammation, your body is able to defend itself against external attackers, germs and microbes, thus lowering the risk of minor ailments like regular influenza. Polyunsaturated fats, monounsaturated fats, cryptoxanthin, propranolol, quercetin, lignin, pelargonidin, isoflavones, glucosides and extra virgin olive oil are all anti-inflammatory substances found in black garlic.
Regulates blood sugar: Black garlic, since fermented, as the bacterium Lactobacillus Bulgaricus. This introduces antioxidative properties that help minimize high blood sugar.
Boosts system functioning: Vitamin B6, Vitamin C and manganese are all found in abundance in black garlic. This aids in the body's defensive system enhancement. It not only strengthens the immune system but also aids the absorption of nutrients. It improves muscular endurance, relieves constipation, protects the liver, improves prostatic functioning and stimulates sleeping, among other things.
Reduces cholesterol levels: Since it is matured well, black garlic has higher S-allocyathins compared to normal garlic. This chemical has a long history of being used to lower levels of cholesterol.
Protects the liver: Black garlic can shield the liver against harm caused by chemicals, medicines, liquor and infections. Black garlic has been shown in tests to safeguard the liver from additional harm once it has been injured. In much more recurrent situations, black garlic could be beneficial. 
Beats brain impairments: We know that black garlic aids in the prevention of inflammation. Since inflammation may wreak havoc on cognition and deteriorate brain function and quality of life, black garlic is extremely useful. It has the potential to decrease beta amyloid-induced inflammation in the brain and potentially enhance goldfish memory. Black garlic extracts also protect against memory loss associated with oxidative stress.
 Black Garlic Fermenter and Its Benefits
The black garlic fermenting equipment is a unique kitchen appliance that is used to produce black garlic. This equipment is also known as a continuous temperature and moisture assessment container since the temperature and moisture content must be regulated within a specific level whilst the fermentation takes place. In case the warming and moisture control systems fail while the fermentation process takes place, the regulator and temperature safety will immediately shut down the operation. This keeps black garlic's quality from degradation due to equipment failure during the fermentation and safeguards your benefits to the maximum extent possible.
The majority of black garlic fermenting machines have a structure that is comparable to a rice cooker and therefore is simple to operate. Nonetheless, there are indeed few that have a unique design. Since the fermenting period often takes a while, choosing energy-efficient equipment is critical. Doing so will save a lot of electricity. An efficient interior layout guarantees the user extremely high quality and flavorful black garlic since it allows optimum airflow and curing. The garlic holder is built like a cage, which also facilitates air to circulate evenly throughout the garlic for a consistent outcome.
Though you can ferment garlic at home, the black garlic you are looking for is attainable only via the use of a garlic fermenter. Trendha's garlic fermenter is a lightweight, user friendly and portable machine that is easy to maintain and super light on your pocket. Now it's time to get started with your health routine and adding black garlic to your diet!
---